Are you stuck and unable to make a selection between latex vs silicone swim caps?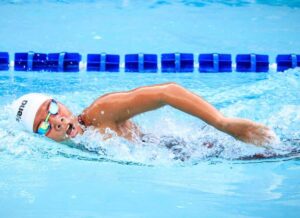 Today I will clear all the confusion that whether you should purchase a latex or silicone swim cap.
Swimming caps are made from different types of materials.
However, silicone and latex are the most commonly used swim caps for almost any swimming activity.
The other options are lycra, neoprene, and polyurethane, which are rarely popular.
Silicone swim caps have their own importance, while latex has its own presence.
Competitive and recreational swimmers use different options and swim caps for real-life swimming competitions, showering swimming laps, and even training. 
Both silicone and latex swim caps offer the best form of defense against chlorine, bacteria, and other harmful chemicals.
You should know that no swim cap can keep 100% of hair dry in the first place. To be clear, it's worth mentioning because both options fail to keep hair completely dry.
Latex vs Silicone Swim Caps [Comparison]
To better understand the difference between latex and silicone, I will keep a blueprint clear and to the point so that you can better understand the technology and perspective behind them.
Once you know the difference between them, you will be happy to choose and conclude whether to choose silicone or latex swim caps.
In short: Latex is cheaper and recommended for swimming in warm water, but silicone swim caps are flexible, adopt every type of swimming condition, and last longer.
| Silicone Swim Caps | Latex Swim Caps |
| --- | --- |
| super flexible, stretchy, and hypoallergenic | Stretch easily and Hypoallergenic |
| Made from a thicker layer of silicone | Made from a thin layer of latex rubber materials |
| Best for cool water | work very well for warm water |
| Soft and comfortable to put on | provide a snug fit |
| Flexible and stretchable will not rip or tug | Rip and broke easily |
| Allergy and odor-free (safe to use) | Allergic materials (someone might be allergic to latex) |
| Recommended for every kind of swimming activity from competitive to recreational swimming | Use for any type of swimming activity, but most swimmers prefer latex for training and practice |
| Last longer even for several months | Might break after using it a few times |
Silicone vs Latex Swim Caps: Which one is for you?
Now let's know and dig into the secrets and hidden queries.
At the end of the detailed comparison, you will conclude whether a silicone swim cap will work for you or latex.
Silicone Swim Caps
Silicone swim caps are made up of a thicker layer of silicone.
They are super strong, soft, flexible, hypoallergenic, and stretchy.
It is easy to put on and off because of its loose-fit materials and super stretching compatibility. 
These qualities make it an affordable option for those swimmers who want to wear a swim cap quickly and have a lot of hair or long hair that regular swim caps can't cover.
Benefits and stability
Swimmers tend to choose silicone swim caps because of the numerous benefits.
They are soft and can stretch twice the swim cap's actual size to cover short and long hair.
Some swimmers might be allergic to latex materials. Still, if they want to enjoy swimming, silicone swim caps are the only beneficial option because they are allergy-free and provide comfort.
It does not burden the head and might consist of two functions; the offer part keeps your hair secure, and the edges are made to stick to your head to prevent water from entering inside.
Silicone swim caps do not press the head as other swim caps do. It also depends on the type of swim cap you are trying to purchase. 
Silicone Swim caps are available in different colors, designs, and even unique textures, so you can easily purchase them according to your personal preferences.
Popularity and use
People of all ages can take benefit from silicone swim caps. 
Silicone swim caps are the most popular choice among athletes and competitive swimmers.
If you are a die-hard fan of swimming competitions, then you might have noticed that swimmers wear silicone swim caps.
Some of them might use double swim caps like they might have worn a latex swim cap under a silicone swim cap.
Silicone swim caps cover your head and stick on it.
It also does not have slid-off issues, nor it moves from its position. So your focus will be on the target.
Lifetime
Silicone swim caps last longer and provide better results. 
It depends on the way you treat them. Suppose you are taking proper care of the swim cap. It can last for several months and even years.
Silicone swim caps are made from a thick layer of silicone material.
It does not rip or break because it accepts wear and tear. That's why professional swimmers prefer silicone swim caps.
Price
Silicone swim caps are expensive compared to latex swim caps.
Maybe the materials are rare to find, and it requires a lot of effort to design such types of swim caps.
As for my experience, these are not that expensive.
Nowadays, silicone swim caps are not too expensive because you can easily purchase one for under 10$. (Speedo swim caps are the most purchased silicone swim caps.)
However, some swim caps tend to offer excellent quality and come under 20$. I don't think it is costly, do you think it is?
Care and usage
Every product requires proper care and has a lifespan.
Silicone swim caps have no exception. It requires the same effort and cares as you do for any other kind of swim cap. 
It needs to be kept out of the sun, dry only in natural air, and washed using cold water. It increases its lifespan.
Latex Swim Caps
Latex swim caps are the second most popular option for those who want to have less burden on their head.
Latex swim caps are made from a thin layer of latex rubber and stretch easily.
Due to the stretching of latex rubber, it is easy to wear such types of swim caps, and they are a comfortable option for all ages. 
Since the latex swim caps are thinner, so it is a suitable choice for warm water.
Sometimes swimming in hot water, especially in the summer season, the pool water may raise your body temperature, and putting a thick layer of swim cap like silicone might cause problems.
In this case, latex swim caps are the recommended option for warm water. It is why most swimmers prefer latex swim caps for training and sport.
Benefits
The materials of Latex swim caps can stretch to easily cover hair of any length, various from short to long hair. 
However, it also prevents the flow of water and keeps your hair secure from pool chemicals.
Also, these types of swim caps are lightweight, and it feels like a headband.
Most swimmers practice in warm water, so it's a beneficial choice for them.
Caution:
There are several cons of latex swim caps. The lifespan is too short, depending on the way you treat them. Someone might be allergic to latex. According to a search, 2.1% of the population has a latex allergy. (research conducted by PMC)
Popularity
Just like silicones, these are also popular among swimmers.
Most trainers and swimming instructors recommend latex swim hats for competitions as their first swim cap under a silicone swim cap.
Also, their purchase rate of them hit a peak during summer when the water tends to be hotter than usual. 
Lifetime
Latex rubber materials are less durable than other swim cap materials because latex is made from a thin layer of a rubber tree.
There are high chances of ripping and puncturing through hard metals, sharp nails, and earrings.
You have to be careful while wearing such types of swim caps because your nails or other sharp things can damage them.
So the lifespan will now depend on the way you are taking care of it. In most cases, it can't even last for a month.
But what are the good things about them? Read the below passage.
Price
The surprising and good thing is the cost.
Latex swim caps are inexpensive compared to silicone swim caps. One can easily purchase the best quality swim cap for under 10$, and even some swim caps are for under 3$. 
Require proper care
Latex requires more proper care than silicone, and you know the reason.
The care is simple, as you usually do for other swim caps.
Rinse only in cold water, store them in cool places and keep them away from direct sunlight (exposing latex to direct sun might break them or create wrinkles on the swim cap).
Conclusion
So what have you chosen from the silicone vs latex swim caps comparison?
It is probably the one that will complete your desires. But both options are trendy and work well in different environments and conditions.
Silicone and latex swim caps look the same, but there is a slight difference between price, lifespan, and usage.
I hope I have cleared up all the confusion and given you valuable knowledge. The key points and differences will help you make your selection even faster. 
If you are still confused or have some doubts, then feel free to ask me in the comment section. I will be happy to answer you.

Do you know some other pros and cons of latex vs silicone swim caps? If yes, please let me know. I will be happy to learn and add them to the list.