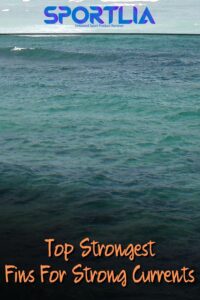 If you dive into a location where you often deal with strong currents, only proper techniques and the best fins for strong currents can save your life.
Also, you will need potential and robust scuba gear to help you escape from the strong current since it can be dangerous.
To deal with a strong current, you have to find a way out of it. However, your technique and speed play an essential role in this process.
There are no fins designed explicitly for strong currents.
You can use stiff, strong, and rigid fins for the purpose, but try to avoid using split fins or fins that don't generate thrust and push as you need it the most when dealing with a strong current.
Also, your fins should be made of high-quality materials to continue working with your kicks without hurting your ankle.
Swimming fins are an essential aid to deal with the strong current because they will boost your kick power and help you swim efficiently.
Sometimes, You might try to save some bucks and purchase low-quality scuba diving fins for strong currents. It can end so severely because you will either lose control or your fins do not have much power to propel your body.
So you will enter the current trap, which becomes a little hard to control; that's why I recommend going with powerful gears when fighting against a strong current.
How to Handle Strong Current Efficiently Using Fins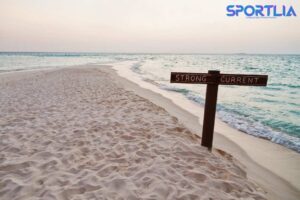 Strong currents can be a common occurrence in oceans and lakes. These currents can be hazardous to swimmers and watercraft alike, but there are ways to handle them efficiently without putting yourself at risk of injury or drowning. You can use fins that give you more thrust when you need it the most.
Below are the basic things you will need for handling strong current:
Prepare Yourself
Know Your Direction
Stay In Group
Flow with the current
Proper Equipment
Proper Techniques
Comparing 7 Best Strong Currents Fins
Preview
Swim Fins
Details
Price

1. Mares Quattro Strong Current Fins



Blades:

Medium

Heel Style:

Open

Materials:

Rubber

Check On Amazon
2. Scuba Pro Jet Fins




Blades:

Short

Heel Style:

Open

Materials:

Rubber

Check On Amazon

3. Mares Super channel Scuba Fins - Best For Strong Current



Blades:

Long

Heel Style:

Closed

Materials:

Rubber

Check On Amazon

4. Seac Motus Italian Fins



Blades:

Long

Heel Style:

Closed

Materials:

Rubber

Check On Amazon

5. Tusa SF-22 Solla Open Heel Fins



Blades:

Medium

Heel Style:

Open

Materials:

Plastic

Check On Amazon

6. Seac Talent Camo Fins



Blades:

Long

Heel Style:

Closed

Materials:

Thermoplastic

Check On Amazon

7. Mares Plana Avanti Fins



Blades:

Long

Heel Style:

Closed

Materials:

Rubber

Check On Amazon
---
Reviewing 7 Best Fins For Strong Currents
Below is an in-depth review of all you need to know about strong current fins.
1. Mares Quattro Strong Current Fin – Top Pick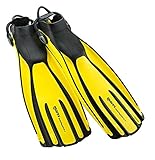 Last update on 2023-05-23 / Affiliate links / Images from Amazon Product Advertising API
The Mares Avanti fin is more comprehensive and made from rigid materials with the ability to produce powerful kicks to help you dive efficiently in strong currents.
Mares Quattro fins are a great choice if you want a pair of superior fins to enhance your diving experience and make you a better diver.
These fins are packed with in-depth materials called thermoplastic and a rigid combination of rubber to help you maintain thrust and propulsion. So that you can only focus on your kick style, and the fins will do the magic.
I have been using the Mares fins for different purposes, and they are the best on all levels. The materials and composite construction make these fins comfortable and attractive.
The Mares Quattro fin's power lies in the blade; they are pretty lengthier and strong as it varies from 37-39 cm, depending on your size.
However, the length of the blade doesn't affect the kick power because the Mares comes with a soft and comfortable bungee-strap foot pocket system to help your feet feel relaxed.
The bungee strap's foot pocket transfers the kick power into the blade without affecting your speed.
In contrast, the blades also use a four-channeling effect to push the water and help you stabilize your body position when handling strong currents.
Since holding your body position in the current is hard, you will find the Avanti Quattro easy to use to help you escape from the strong current and keep your legs performing kicks effortlessly.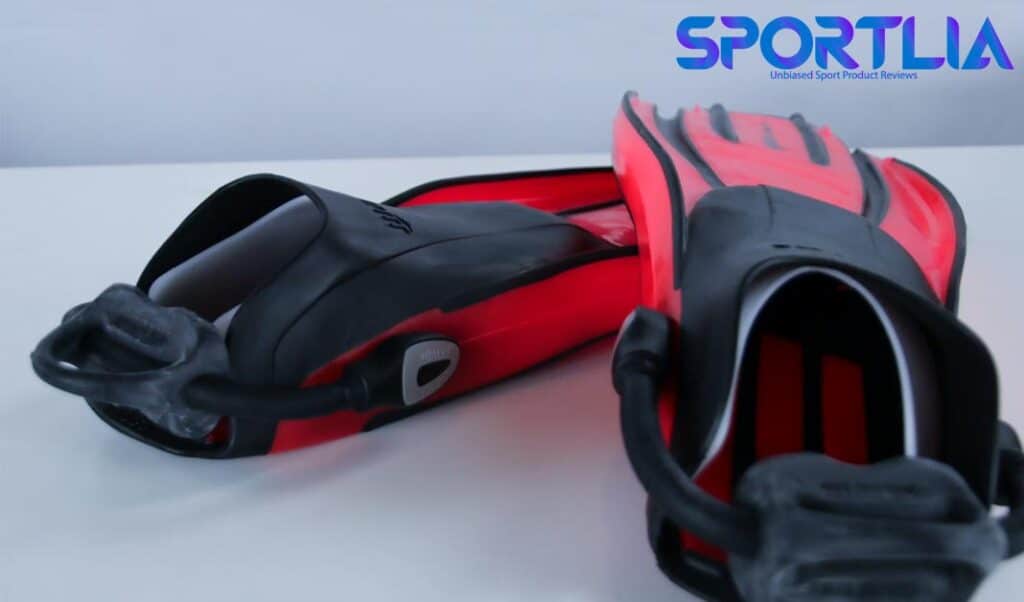 The blade comes with a channeling thrust shape which is quite helpful when your kick rate is slower but if you want to move faster from a particular area. The channel shape blade style can push water with stronger movement, creating more thrust with less effort.
Sometimes fins might cause cramps and hurt your ankles because of the uncomfortable foot pocket system, but Mares have some advantage over other fins because they are proven not to hurt your ankle or cause cramps.
Instead, you can increase your ankle flexibility and build leg muscle because the foot pocket sends all the power to the blades without stressing your legs. This way, your kick will be powerful, and you can handle the strong current efficiently.
If you are hooked in a position where you need to perform scissors and flutter kicks frequently to get out of the strong current even faster. Then, Mares fins can save your energy because the fins carry much flexibility for performing any kicking style you prefer, such as frog kick, back turns, or back fining.
However, if prolonged diving is something you love, socks and water shoes are essential for keeping your feet warm and active during the sessions.
But most swim fins do not have adjustable foot pocket systems, so they will not allow your feet to fit calmy, which is the biggest issue with the bungee strap foot pockets because it does not allow you to adjust the tightness of the foot pocket area.
So if you want to wear socks or water shoes with your fins, you must choose a larger fin for an excellent fit.
The cool thing about Mares Avanti fins is that they allow you to attach smaller and bigger bungee straps into the foot pocket, so that's a plus when looking for adjustable current solid fins.
Furthermore, I found these fins slightly rigid for kick styles such as flutter and back fining. But they work great for all kick styles. It depends on your strength and techniques.
In addition, these fins are heavier and bulkier to produce a strong push effect on the water with your kicks.
In short: The Mares Avanti Quattro fins are designed from highly flexible materials, making them the best fins for strong currents because of the channeling thrust technology and stabilizing blade style. These are the features you need to move out of the current or face the current with less effort.
However, the Mares fins require a significant amount of kick power for good push, so before purchasing these strong current fins, make sure you have enough confidence to handle them.
2. Scuba Pro Jet Fins – Runner's Up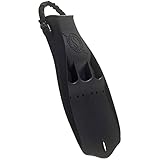 Last update on 2023-05-23 / Affiliate links / Images from Amazon Product Advertising API
ScubaPro Jet fins are robust, adjustable, and feature state-of-the-art technology.
Despite dominating the diving industry for 20 years, the shape and power of these fins remain the same; Scubapro strives to improve the materials.
For any reason, if you don't like the Mare's Avanti Quattro fins because of their bulkier size and bungee strap system, which might become a little hard to adjust.
Then say hello to ScubaPro Jet because this is another beast and one of the best fins for strong current.
They are designed to provide promising results when swimming against a strong current. The fins are made from high-quality rubber materials which use flexible structures to help you maintain a sustainable position while diving in the current.
The Scubapro jet fin doesn't feature any fancy style or technology, but it helps to reduce water drag when doing upstroke and downstroke.
By doing so, the fins will frequently support your feet to help you increase thrust and speed up your body so that you can quickly go out from the strong current or flow with it.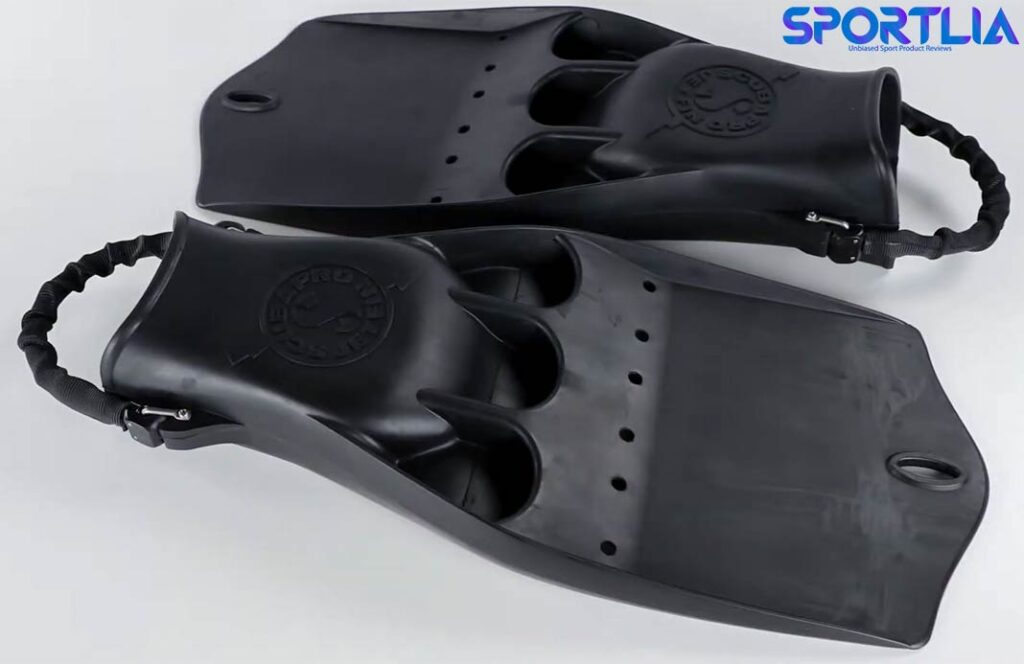 Furthermore, these fins use an adjustable heel strap which the Mares Avanti Quattro doesn't.
Still, if you want a cutting edge and a little extra control on your fin's adjustability, I recommend the Scubapro jet pro fins because it offers self-control on the foot pocket side.
The adjustable heel style is ideal for beginners and professionals because the fins come off issue is solved by the Scubapro jet fins. Here you can adjust the tightness of the foot pocket by pulling down the straps.
The reason I like the strap system is that it is straightforward.
Some fins use adjustable straps but with a quick-release buckle system that might come off occasionally.
However, the straps can be tightened using the needle clip tightening system without causing any trouble.
The foot pocket area is further extended with side rails toward the blades. The blades are not too long or short; it's just middle-level blades.
But they are innovative; the short length of blades might not offer excellent propulsion or push in your dive speed.
Still, they are instrumental when your legs can't handle bulky fins, especially when you need frequent kicks to move out from the current. You can easily take the situation under control by using Scubapro Jet fins.
Additionally, these fins are a bit pricey, but if you want to feel the power, then it's worth it.
Moreover, the heel straps are replaceable and cheap.
Even though the heel straps are cheap, they still provide excellent results. You can kick effortlessly with these fins because they are packed with potential power.
SCUBAPRO Jet is an entry-level fin made from high-quality, durable rubber to offer excellent grip in strong currents.
In conclusion, if you want results faster, their short blades and adjustable heel straps are a great combination to maximize exposure and boost thrust.
It is important to note that the fins use a short blade, which might not be the best option for beginners since it will not allow you to attain higher speeds.
Unless you want to go faster, you need to kick quickly and forcefully to move out of the current, which is very difficult to do with scuba fins that are long and bulky. But you can efficiently execute your kicks using medium or short blade fins.
You should have manageable fins in such a situation because if you have very long blade fins, you will have difficulty executing kicks. That is why Scubapro Jet is a win-win aid to swimming.
3. Mares Scuba Fins – Best For Strong Current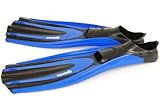 Last update on 2023-05-23 / Affiliate links / Images from Amazon Product Advertising API
The super-channel makes Mares my favorite fins for my diving stunts, even though they work well with strong currents.
These fins feature three channels in the blades for optimum performance to escape from the current and take control of the direction.
The Super Channel technology propels an incredible amount of water from the blades instead of letting it flow over the edges.
Therefore, if you're dealing with a strong current, Channeling technology is very useful as it will push all water, so there is no risk of water splitting over the edges of the fins. This type of blade styling creates more momentum and enhances performance with little effort on your part.
However, the Mares fins also provide a different version of these fins with varying blades.
These blades are available in various lengths ranging from 32 to 37 cm, so you can select one according to your diving style.
If you are going to swim against a very small or moderate current, I recommend choosing a larger size.
When dealing with a powerful current, you should opt for a short or medium-length fin because choosing a long and bulky fin will be very hard on your legs and ultimately prevent you from performing powerful kicks. Because of this, Mares offers different blade styles designed to suit different diving environments.
To further enhance your experience, Mares blades are made from Thermoplastic Tecralene materials, which increase their elasticity, flexibility, and durability while making them lightweight.
Whether you are a recreational diver or a complete beginner, these latest combinations of rigid materials will feel light on your legs and provide better performance without exerting much effort.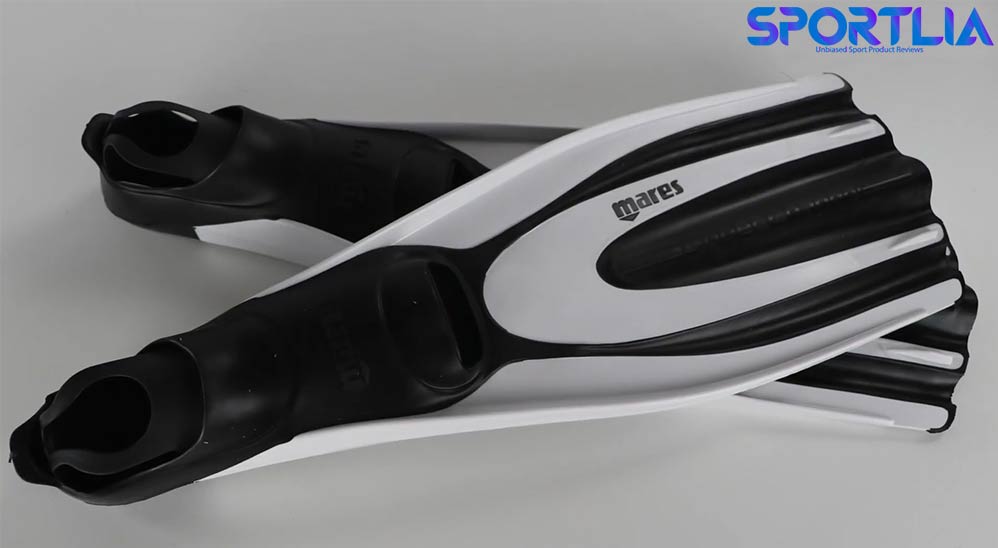 When searching for the best fins for my needs, I always watch the foot pocket because the foot pocket will transmit the kick power to the blades, so the better the foot pocket, the more excellent kick effects will be generated.
In this case, Mares went one step further; an orthopedic specialist designed the foot pocket to provide you with a safe dive experience.
These fins come with closed orthographic full foot pockets, enabling your foot to find a snug fit, reduce fatigue, and prevent cramps thanks to the Thermoplastic Rubber material.
It is possible to use these fins barefoot, but I recommend wearing neoprene socks with them for more comfort since this will double the comfort and provide a friendly environment for your feet, so cramps will not be an issue.
Also, the blades are beautifully extended from the foot pocket, creating small lateral channels to boost your thrust and reduce water drag.
On the other hand, the side ribs of the blades are rubberized so that you can push more water at once. This way, the power of your kick will be increased, indirectly increasing your leg strength and ankle flexibility.
In the Mares full foot, channeling blades and orthopedic foot pockets work in unison to reduce the wobbling effect and provide excellent thrust.
The blades push a more significant amount of water.
Still, you will receive stable kicks, and the channeling technology will ensure that your power and stamina are always going in the right direction.
However, the blades run short even if you go with a 37 cm size, so that I will recommend them for travelers and warm water.
So if you often travel and find it hard to dive because of the strong current, the Mares super channeling fins are the best option since it doesn't occupy much space in your bag but still generate excellent results when put to work.
4. Seac Motus Italian Fins – Best For Medium Current

Last update on 2023-05-23 / Affiliate links / Images from Amazon Product Advertising API
These giant swim fins are specially designed for freedivers and spearfishers struggling to get fins to help them swim in strong currents.
Seac Motus spearfishing fins are made with long blades that provide a better boost as you kick.
With Seac spearfishing fins, you can accomplish more with less effort because the massive propeller blades generate enough thrust to increase your ability to go beyond your limits.
A combination of two materials is used in designing these fins – the blades are crafted from technopolymer, and the foot pocket is from thermoplastic rubber.
It is helpful for prolonged diving since the blades are very long, and you need flexibility to achieve speed in currents. The Seac fins use polymer construction on the blade side to enable flexibility and enhance your productivity.
The Seac has put a lot of effort into the foot pocket because it is challenging to combine different materials.
Furthermore, these full foot fins feature dual-material structures in the sole and foot areas that increase your chances of staying in the water for longer, thanks to the comfort provided by the foot pocket.
Although, the blades have been designed with a 22-degree step from the foot pocket area to increase the chances of generating more thrust and reducing water drag.
The Seac freediving fins are durable with an elegant design, so you can wear them if you love wearing vibrant diving fins to capture underwater images because they are beautiful and come in five colors.
Though these fins would fit comfortably, I was not too fond of the complex structure of the foot pocket.
Most feet are cumbersome, and blisters are likely to form.
However, wearing neoprene socks or a water bootie can reduce cramps and blisters.
The water bootie will make these fins super heavy, and you will find them a little heavy when handling current.
However, I will only recommend Seac giant freediving fins if you are confident and strong enough to manage them.
Instead, I recommend medium-level fins for beginners and recreational swimmers.
In my opinion, the Seac fins are an entry-level model for professionals.
Because these fins are very heavy and beginners cannot handle them without proper techniques, you need power in your legs to kick with Seac fins.
Therefore, I will only recommend Seac fins for solid current if you are an experienced diver or confident you can handle them because these are giant fins with long blades.
I have never seen such a long blade fin.
As I mentioned, you must wear neoprene socks or water shoes to prevent chafing, muscle cramps, and fatigue.
Therefore, I recommend choosing one size larger if you plan to use these fins for prolonged swimming because many buyers complain about sizing issues.
5. Tusa SF-22 Solla Open Heel Fins – Best For Beginners

Last update on 2023-05-23 / Affiliate links / Images from Amazon Product Advertising API
For instance, Seac Motus may not be the best choice for beginners due to its size and poorly-designed structure.
So, if you haven't yet selected a fin for strong currents, the Tusa SF-22 model will impress you.
The SF-22 model has a robust suspension system that will give you much greater propulsion and even more thrust in strong currents.
It is made from a highly reactive hydrodynamic material designed to last longer and enhance your ability to stay underwater for longer.
Moreover, Tusa's ForcElast technology makes them the best fins for strong currents in scuba diving.
The ForcElast system combines thermoplastic elastomer materials that are unique to the blades and foot pocket. This new technology will provide powerful propulsion and speed with minimal kick efforts.
Foot pockets and blades help you generate strong kicks that help you fight against the current with better propulsion.
However, the blades also feature three crescent-shaped channeling tips similar to Mares Super Channeling fins.
Moreover, there are two holes on the joint side of the blades and foot pocket area, which will allow you to pass out quite a small amount of water as you kick, significantly increasing kick speed by eliminating water pressure from the joints.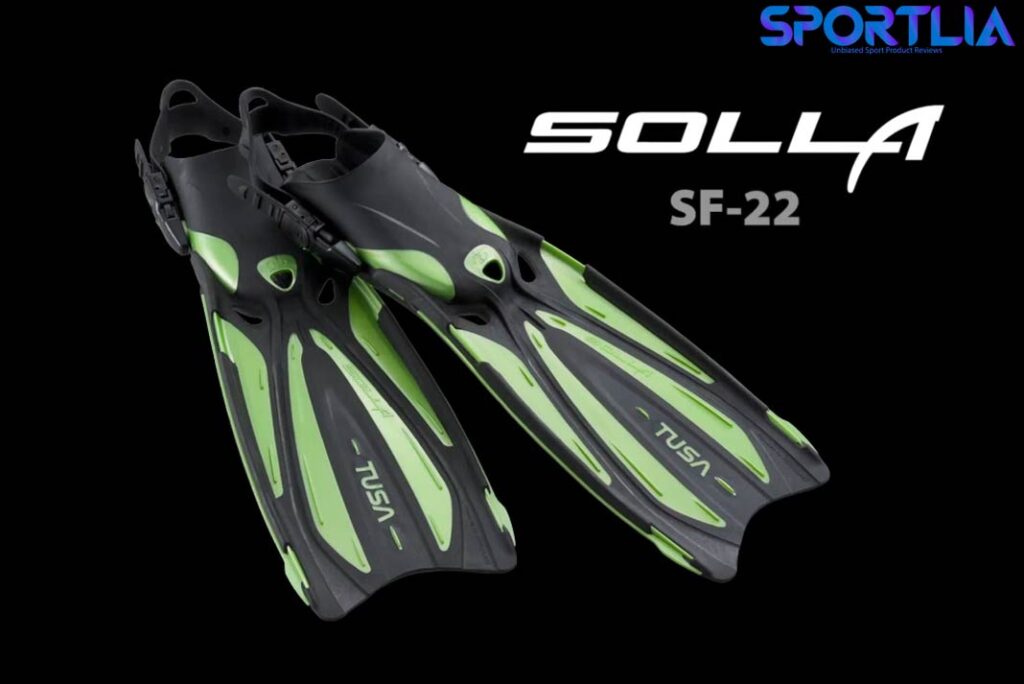 However, the Tusa SF-22 fins differ considerably from the Mares SuperChannel fins, as the Tusa fin comes with exciting features like reinforced blades and side rails.
A blade structure like this reduces water drag and pushes more water, making swimming faster.
However, the Mares super-channel fins do not have reinforced blades.
Tusa fins also feature a new foot pocket system for a comfortable experience. Along with powerful fins, I love the adjustable foot pocket system.
It comes with EZ straps and a buckle system. This allows you to adjust your foot easily even if you have worn the fins.
You can constantly adjust the straps and make them comfortable for your feet.
The Fins straps are further enhanced with an anatomic design to offer flexibility and control for reducing heel decrement without causing harm to your ankles – allowing you to kick with minimal effort without hurting your ankles.
The patented Angled Blade design provides superior force when you kick, benefiting your legs and making it easier to generate thrust with minimal effort.
Tusa SF-22 fins are constructed to aid your body when caught in a strong current because they allow you to swim faster by boosting the power of your kick.
Flexible blades and a comfortable foot pocket make these fins great for active swimmers.
Thanks to the adjustable strap system in the foot pockets, Tusa swim fins can be worn with booties ranging from 5mm to 7mm.
Still, the bootie size also depends on your foot pocket size, so check your foot length before ordering these fins because the wrong size will make it difficult to wear them, and you won't be able to fight against the current.
6. Seac Talent Camo Fins – Best For Pro Divers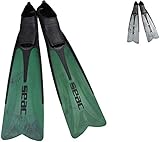 Last update on 2023-05-23 / Affiliate links / Images from Amazon Product Advertising API
My favorite pair of fins for strong current is also from Seac fins. It features medium-length blades and an astonishing design, so you'll enjoy the blade length and, of course, the power.
Since the previous model mentioned in this article has vast blades, you may be unable to handle it, which is why you are still reading.
Thus, if you are looking for a lightweight option to navigate the sea in solid currents, Seac Medium length blades are ideally suited.
Though the medium blades will not provide the best results in deep water, they provide an excellent boost in shallow water and are suitable for surface diving because they do not generate high thrust levels. Nevertheless, it produces impressive results when the current is strong.
These Seac talent Camo fins feature high-quality rubber, which provides excellent flexibility in all strokes.
While the design is straightforward, I can call them a budget pick for beginners.
However, you will miss valuable features such as the channeling effect, side rails, and foot pocket adjustment.
The foot pocket is made of the same materials as the blade, making it suitable for beating solid currents.
Also Read: 10 Best Fins For Open Water Swimming
Thanks to the rubber construction, you can be assured of a precise fit and comfortability in the foot pocket area.
Unlike traditional fins, made from hard plastic, generating a powerful kick is challenging since they may hurt your toe and ankle and cause cramps and fatigue. With the Seac fins, you won't have to worry about that anymore.
Although I didn't need socks with these fins, I recommend sizing up for a more precise fit with a neoprene booty if you plan on diving deeper.
The Seac fins use a full foot pocket and non-vented blades to achieve camouflage effects.
Doing this will ensure your blades can blend effectively in a strong current.
Although the blades are short, you will not get the same boost as long blades.
In addition, if you don't have much strength in your legs, you will not be able to handle long blade fins comfortably because they are cumbersome. This is why medium-length blade fins are best for all situations.
Medium-length fins offer less thrust and boost but still perform well in strong currents. To escape from the current, you need to kick frequently.
In this case, the Seac medium blade fins are ideal because they are lightweight, and you can perform faster quicks through them.
7. Mares Plana Avanti Fins – Budget Pick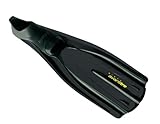 Last update on 2023-05-23 / Affiliate links / Images from Amazon Product Advertising API
Mares has been a top player in the diving industry for decades, and their swim fins have always had the highest quality.
The Mares Plana series has anatomical foot pockets and relatively long blades to combat strong currents.
The fins offer a stabilizing effect so that your kick will transfer all the power to the blades for effective kicking.
This way, your strength will not be lost, and you will stay active in your diving sessions.
Consequently, it increases your stamina to perform more and more quicks without becoming tired, which allows you to navigate the current and get out of it without losing your stability.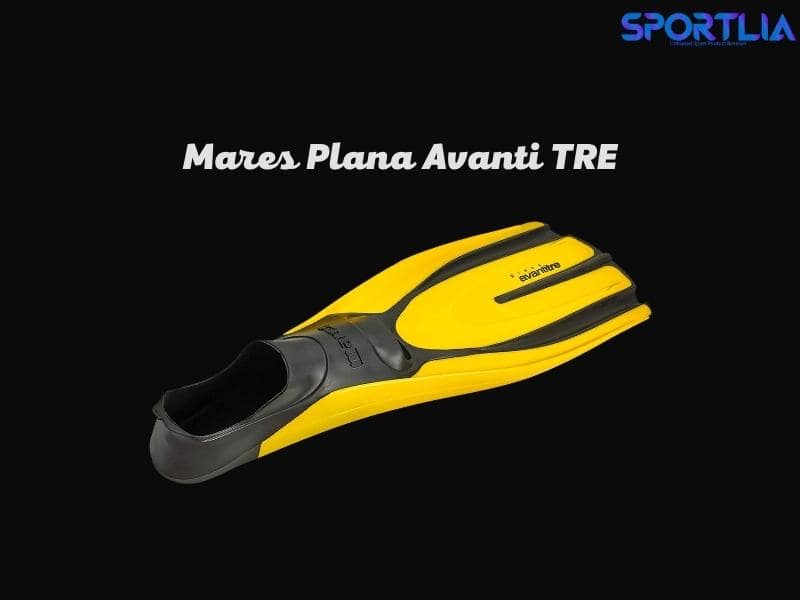 The Mares blades are neither too short nor too long; they are just mid-level blades with three channels that reduce drag and increase propulsion.
And these two things mainly affect the current so that you will have a more decisive stay in the water with more substantial kick power.
In addition to their durable construction, Mares fins bring a high-efficiency diving experience with their orthopedic foot pocket and beautiful collection of terylene blades.
The blades are designed with three channels to propel your body for a better push with minimum leg power so that you can concentrate on improving your kick style instead of worrying about leg fatigue and cramps.
As a result of the softness of the rubber constructions, all your leg and ankle problems will no more a concern.
As you know, the blades are medium, so this will require a little kick effort to excel your body.
So if you are a beginner and lack the stamina and leg power to deal with bulky and long fins, the medium-length fins will help you improve your kick style, build leg muscle, and improve ankle flexibility.
If you are on a budget and do not have to spend a lot on fins to aid you in strong currents, then the Mares Plana Avanti is an excellent choice for beginners and occasional divers since these are cheap but highly effective fins.
The foot pocket is soft underfoot and does not cause cramps. These fins are mid-length, so they're great for leg workouts and training sessions because they're easy on your ankle joints and don't burden your legs much.
Therefore, if you are preparing for diving strokes but a strong current prevents you from swimming in your sea area, the Mares plana fins are an affordable option for beating strong currents.
---
Which Kick Style Works Best For Strong Current
There are different kick styles that you can use for handling strong current, but these two are very popular and works best for strong current.
Flutter Kick (Freestyle kick)
You can use many different kick styles for handling strong currents, but the flutter kick is one of the most popular.
Flutter kick is the most common kick style. In which the legs make rapid up-and-down kick movements.
The flutter kick uses the legs' quick, alternating motion to move through the water. It's a great way to add power and speed to your swimming.
It is also great to build strength and speed in your swimming to fight the current. This kick also helps build power and speed in your strokes.
Frog Kick
The frog kick is executed similarly to the frog itself.
If you have ever noticed a frog kick in the water, you might have also seen the push he would receive in each kick.
Similarly, you can also practice generating the frog kick movement.
In breaststroke, to execute the frog kick, you have to bring your legs toward the body, bend the knees and feet together, then kick in the outward direction and continue the same kick style.
The frog kick is quite popular amongst divers because this is a powerful technique to help you get out of the strong current zone faster.
However, frog kick is not advisable for all kinds of strong currents; you must know your direction and execution techniques before applying any kicking style in your session.
---
How to Choose The Best Fins for Strong Current?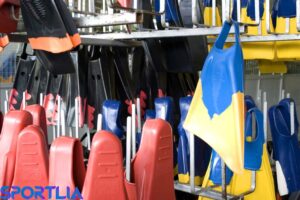 Swimming in a strong current seems interesting, but it's tough and challenging. So you need the right gear to handle it.
I think the best fins for strong currents offer support and stability and allow you to perform freely in the water.
However, to choose your first pair of fins for strong current, follow my tips;
Fin Sizes (Short, Long, and Medium Blades)
Short fins are great for swimming in a strong current, providing more support and stability. But they require a lot of frequent kicks to help you move forward as they don't have much speed and might tire you faster. These fins also allow you to move more freely through the water. Short Fins are primarily used for training sessions to increase your speed, build leg muscle, and improve techniques, but they generate minimal thrust, which is much needed when swimming against a strong current.
Medium Fins, When swimming in a strong current, it's essential to use fins to give you the most power and thrust. Medium fins are a good option, as they provide more power than short fins and less drag and strain than long fins. So I will recommend the medium fins but remember, the thrust will be lower than long fins.
Long Fins – On the other hand, long fins provide incredible support and stability to make it easier to swim against the current. The longer fins generate better propulsion and are more buoyant in terms of reliability. They provide great push with every kick and generate more thrust than short and medium-length blades.
However, long-blade fins are heavy and require a strong kick for effective results.
Lastly, the fins length should not bother you because it depends on several factors considering the blade style, such as your swimming domain and your usual activities. If you are already used to swimming with short fins, go with short otherwise, long fins will also work.
Material of the Fins
The fin's materials are critical when buying the best fins for strength.
The fins are also highly dependent upon the materials used to construct them. Good fins should be durable and well-designed.
It should also be made of lightweight materials like rubber, plastic, or nylon. Since the fin's materials determine its quality, the better the quality, the longer it will last.
Price Points for the Fins
Of course, you'll have to consider your price range when choosing the best fins for strong currents.
Though high-quality fins can cost you more, they are durable and worth the investment.
But it doesn't mean the expense is always better.
Some budget pick fins, such as Mares Plana, and Scuba Jet Pro, fit comfortably and generate considerable power.
Proper Fit Size
It would be best if you got a pair that fits you correctly. This means they should be snug and secure without slipping off or causing blisters.
The size is always selected based on the foot pocket. The foot pocket has different features, divided into categories, i.e., Open and closed heel.
Open Heel Vs. Closed Heel
Whether you prefer open-heel fins or closed-heel fins is a matter of personal preference.
Some people find swimming with an open heel much easier, but others find it tough to control the fins.
Open-heel fins are best suited for cold water because they have enough space to be worn with dive boots, so if you're swimming in cold water with a considerable current, they are for you.
Full foot, also known as closed heel fins, comes with a shoe structure to be worn barefoot. However you can wear them with neoprene socks, but they are best suited for warm water.
I prefer open-heel fins because I feel like having more control when using them. Also, their foot pocket comes with incredible features such as adjustable straps, a quick-release buckle system, and bungee straps that you can use to adjust the size and fit of the foot pocket.
Extra Features
When looking for a good pair of swim fins for a strong current, you should consider some extra features that add additional benefits to your swimming.
For example, side rails can help provide more stability and movement control.
Additionally, angled blade designs can help create more thrust and make it easier to swim against the current.
Also, look for the foot pocket features such as adjustable straps or a quick-release buckle system, but it's all about personal preference.
Weight
When it comes to weight, it's essential to find fins that feel comfortable and are easy to maneuver.
You don't want fins too heavy or too light, as they will affect your swimming abilities.
Heavier fins will help you move faster through the water, while lighter fins will make it easier to move around and maneuver. Finding a pair of fins that balance these two weights is essential to have the best swimming experience possible.
So, these are some factors you need to consider when choosing the best fins for handling strong currents. Keep them in mind, and you're sure to find the perfect fins for your needs!
Wrapping Up
When choosing the best fins for strong currents, you should consider the fin size, price, and whether you prefer open-heel or closed-heel fins.
Try on different pairs of fins to find the perfect fit for you, and make sure they are snug and secure without slipping off or causing blisters so that you can swim confidently and feel safe when swimming in a strong current.
Mares Quattro Plus or Mares Scuba fins are the best options, but ScubaPro fins are also an excellent choice for strong currents.
Swim confidently and be safe when swimming in a strong current using the right gears!
Happy swimming!